Book an Appointment with Muneeza
Muneeza Akhtar Ahmed
Medical Intuitive & Holistic and Nutrition Coach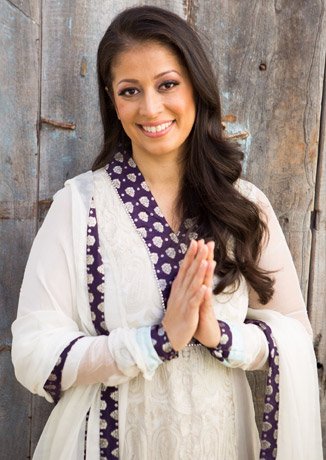 Muneeza Akhtar Ahmed is a Modern Medicine Woman®, Certified Holistic Health and Nutrition Coach, Emotion Code Practitioner, Akashic Record Practitioner, and Seraphim Angel Practitioner who like the sweet souls of generations ago, uses remedies from the earth to bring healing to others. While her medicine bag is filled with herbs, homeopathic remedies, and essential oils, she also understands the importance of our emotional and spiritual energy and how that greatly impacts in health and healing. Using her deep intuitive insight, she is able to find the emotional and nutritional imbalances that are often at the root of chronic and mystery illness.
Her divine purpose is to aide in healing transformations for women and men who suffer from chronic and mystery illness. Muneeza holds space for her clients to heal inside of her in-depth seasonal cleanses, she offers these cleansing experiences three times a year during the Spring, Summer, and Fall seasons. Advanced cleansing techniques and guided Medical Medium® healing protocols are offered in her Detox Mastery Program to empower women to become their own healing light for their life and journey to restoration. The focus of the Mastery Program is to support women in activating their power of intuition so they can be leaders for their families and the people in their life.
As a Medical Intuitive, she is able to see deeper into the energy fields and subconscious minds of others. Often, when she works with someone, she is able to source their auric field, and feel empathically their pain and symptoms of their chronic and mystery illness. Because of this spiritual gift, she has helped thousands of women and men experience emotional clearing.
By experiencing the needs of others and feeling their struggles first-hand, she has been able to create a more in-depth and in-tune path to whole health. From nourishing and cleansing the body using nutrition and Medical Medium® protocols, to healing the spirit and emotions using Emotion Clearing, her soul-driven calling is to help people break free from the hold of chronic and mystery illness while revealing their true potential and essence of their being.
Muneeza has been blessed to receive mentorship by Anthony William for over 5 years and holds a deep understanding of the healing abilities of Medical Medium® protocols. She also co-leads the Medical Medium Practitioner Support Group, to help support practitioners in applying Medical Medium protocols with their clients. In addition to the knowledge from Anthony William, her field of work and experience includes:
Certified Holistic Nutrition & Health Coach from the Institute of Integrative Nutrition & Columbia University
Emotion Code Practitioner
Seraphim Angel Practitioner
Akashic Record Practitioner
Herbal Training with Susun Weed
Raw Food Nutrition Certification
Area of Expertise
Medical Intuitive, working with chronic & mystery illness
Holistic Nutrition & Health Coach
Raw Food Nutrition
Emotion Code Practitioner
Emotional Wellness Coaching
Akashic Record Practitioner
Seraphim Angel Practitioner
See What Clients Are Saying
I am blessed to be able to work with Muneeza. I have MS and with her help I am healing! With her intuitive guidance and personable approach she makes me feel comfortable and hopeful about my healing journey as well as provides countless tips to assist me on my path. Thank you for all that you do! Much love to you AND your staff Emily, who is also amazing!

Alice Sydow
Muneeza correctly identified my problem (internal shingles) that had left me bedridden. Upon following her counsel and recommendations I was able to get out of bed and care for my family in a matter of weeks. God bless Muneeza! If it weren't for her I would still be bedridden, as the physicians I went to told me it was all in my head.

Karen Delgado
It has been a blessing to work with Muneeza. She has been an instrumental part in helping me to take control of my life and healing. Prior to working with Muneeza, I had been suffering from intense, debilitating migraines for ten years. I had done everything from therapy to special diets to homeopathy. Everybody seemed to have a piece of the puzzle. It was not until I worked with Muneeza and did a series of sessions over several months, that I was able to find relief from my migraines. Muneeza used a variety of methods during our sessions that enabled me to see where I needed to get healthy in my career, relationships and diet. She helped me to clear old beliefs and ideas that were holding me back from the biggest version of myself. I would highly recommend working with Muneeza to anybody who wants to live life more fully and find relief from sickness and pain. After our first sessions, the pain of my migraines decreased dramatically and soon I had my first migraine free month in ten years. I am so grateful that I took the time to make this investment in myself and get free from the things that were holding me back. Thank you, Muneeza!!

Susan Cote
This was the most supportive cleanse I have ever done and I have been doing cleanses for over 25 years! Muneeza has so much information, compassion, attention to detail, and humor. The support showed up in many ways: in the detailed guide with so many options, recipes and flexibility that truly anyone can do this. Also in the time she spent on her live webinars. It was so generous of her. Add to all of this the Intuitive aspect wherein we could deeply tap into what felt good to us all day long and make adjustments accordingly. I have never gone deeper, felt better or more supported on a cleanse. The group she attracted was amazing as well. There was support amongst all of us. I have deepened my intuition, compassion and understanding of myself, my body and community. I feel fabulous and am continuing to do a modified version of this cleanse indefinitely!

Maura Mark