Book an Appointment with Robby Barbaro
Robby Barbaro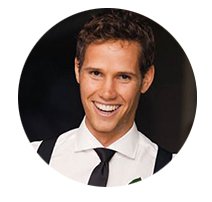 My name is Robby and I am the cofounder of Mastering Diabetes. I was diagnosed with type 1 diabetes at the age of 12, and embraced a low-fat, plant-based, whole-food diet 4 years after my diagnosis. To this day, adopting this lifestyle has been one of the best decisions of my life, and since that fateful day my hemoglobin A1c value has never exceeded 6.6%. I graduated from the University of Florida in 2011 and worked at Forks Over Knives for 6 years before turning my attention to coaching people with diabetes full time.
At Mastering Diabetes we have a comprehensive, online coaching program and an incredibly affordable price. It is just $29/month to receive the following:
-Online course with everything one needs to transition to a low-fat, plant-based, whole-food lifestyle
-A private Facebook group to interact with our coaching team Use the group to ask questions (Mastering Diabetes team answers every new question within 24 hours). Receive guidance, accountability, reassurance, and upliftment. Learn from a community of people on the same path as you. Also receive, recipe ideas and inspiration on a daily basis
-Twice-Monthly Q&A calls with myself and Dr. Cyrus Khambatta (1st and 3rd Sundays at 4 pm Pacific)
Live video call where we can have in-depth conversations to address any questions or issues that have come up for you. Past Q&A calls are available in the course archives.
Area of Expertise
Diabetes. All forms of diabetes, type 1, type 1.5, pre and type 2 diabetes.
See What Clients Are Saying
"This advice is rooted in a deep and endless knowledge of human metabolism, exercise physiology, and nutritional science. The suggestions come with scientific papers and these principles are far from being fads. This program just works; there's no other way to put it. I have never felt healthier than I do now." – Sharon
"I have been living with diabetes for almost 40 years and now I have learned the truth about how my low-carbohydrate diet was actually sabotaging my efforts to maintain optimum health. I've also learned about the true relationship between dietary fat and insulin sensitivity. My diabetes is MUCH easier to manage." – Paul
"Eternally grateful for living a plant-based lifestyle feeling positive healthy and happy. Thank you Cyrus and Robby. I have found that by feeling my body properly with the vitamins and nutrients that it needs from a plant-based diet that is has also helped me emotionally and spiritually. A1c = 5.6. No meds. :)" —Stephanie